Urban Development and Economy: Who Gains the Most?
Urban Institute, Riga
 in collaboration with 
Free Riga
 invites everyone to the discussion event Shifted Kompass.
While developing cities and planning their growth places great emphasis on economic growth, the criticism often heard is that this leaves the social needs of the population in the shadows. The purpose of the discussion is to discuss the various models of urban development and their long-term effects.
| | |
| --- | --- |
| When? | September 5, 18.00-20.00 |
| Where? | Tallinas ielas kvartāls, Street Food Latvia angārs, Tallinas iela 10, Riga, Latvia-1001 |
| Language | English |
| Type | Shifted Kompass |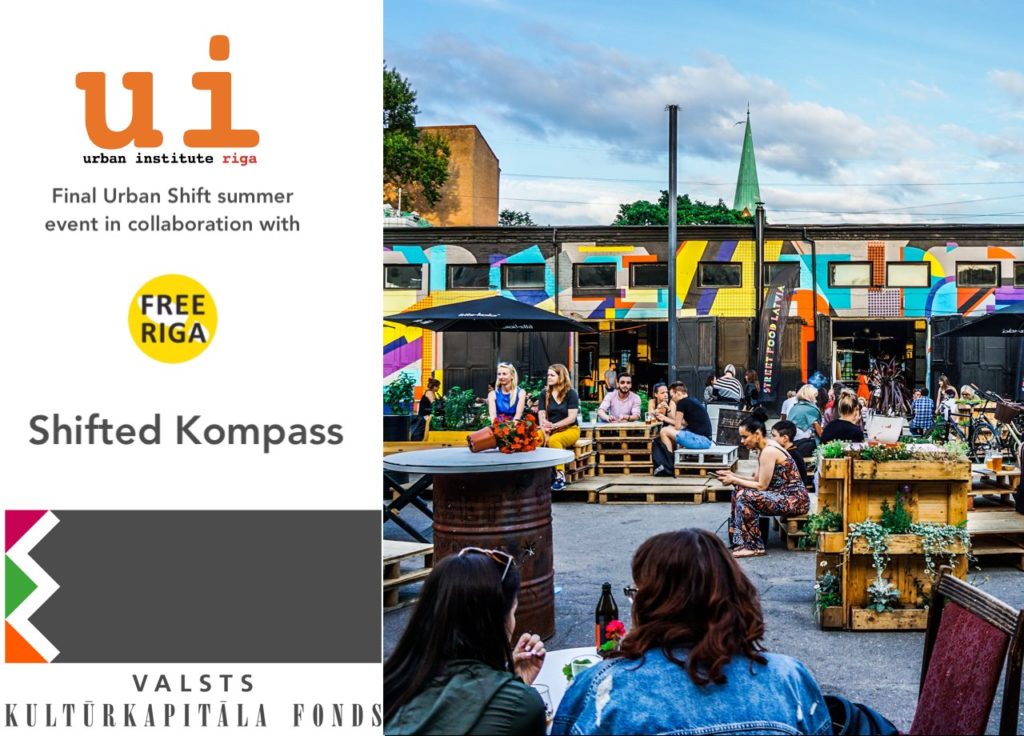 Panelists
Kaisa Schmidt-Thomé, senior researcher at the independent think tank Demos, Helsinki.
Kaisa works with the questions of fair and sustainable urban futures, in the Demos Urban Transformations team.
Kaisa's core competences include:
~ interdisciplinary urban studies
~ societal interaction of research
~ international cooperation in urban and regional development.

Roberts Ķīlis – Social anthropologist and politician, former Minister for Education and Science of Latvia
Kaspars Lielgalvis – Free Riga
Edgars Ivanovs – Investment Architect, Ivanovs Investments
Jonas Buchel – Moderator, Co-founder & team member of Urban Institute
---
Urban Institute, Riga sadarbībā ar Free Riga aicina uz diskusijas pasākumu Shifted Kompass. Šīs tikšanās reizes tēma "Pilsētattīstība un ekonomika: Kas ir galvenais ieguvējs?"
Diskusiju atbalsta/Supported by Valsts kultūrkapitāla fonds un Street Food Latvia
Attīstot pilsētas un plānojot to izaugsmi liels uzsvars tiek likts uz ekonomisko izaugsmi, tomēr bieži dzirdēta kritika ir, ka tādējādi ēnā paliek iedzīvotāju sociālās vajadzības. Diskusijas mērķis ir iztirzāt daudzveidīgus pilsētattīstības modeļus un to ilgtermiņa sekas.
Diskusijas viese Kaisa Schmidt-Thomé, vadošā pētniece ideju labratorijā Demos, Helsinkos. Kaisa strādā ar taisnīgas un ilgtspējīgas pilsētas nākotnes jautājumiem, Demos Pilsētas pārveidošanas (Urban Transformation) komandā.
Kaisas galvenās kompetences ietver:
– starpdisciplināras pilsētvides pētniecība
– pētījumu un sabiedrības mijiedarbība
– starptautiskā sadarbība un pilsētu un reģionālā attīstība
Kaspars Lielgalvis – Free Riga
Roberts Ķīlis – sociālantropologs
un Edgars Ivanovs – investīciju arhitekts, IVANOVS INVESTMENTS
Diskusiju vadīs Urban Institute dibinātājs un komandas biedrs Jonas Bīhels!